Come and experience life on the farm
Children can bottle feed our spring lambs, walk our goats, feed our many hens and collect their eggs, have a free daily donkey ride from our very own donkeys who love giving rides and being fed carrots.
Feeding time down at the barns is a hands-on experience for all the family to enjoy, whatever your age.
Explore the Farm
Child friendly animals at North Hayne Farm
Giving children the opportunity to grow in confidence
Visit our newly built childrens farm and help feed the animals every morning and every tea time. With a structured feeding routine (extended support for children with Autism and other additional needs), animal handling sessions and daily donkey rides, the farm provides a wonderful opportunity for confidence to develop and for Early Years learning to take place supported by our range of EYFS activity packs and farm trails.
Come and feed our sheep - Bambi, Sooty and Haribo plus new lambs each spring for you to help bottle feed
Our two Alpacas - Cocoa and Latte
Many ducks and hens (chicks at Easter)
Cats, rabbits and guinea pigs
Our goats Bramble, Pepper, Blackberry and Crumble
Last but not least our little pigs - Wilbur and Truffle, born 1st September 2014
Experience life on the farm
Come down to the barns twice a day to help feed and care for the animals then collect freshly laid eggs from our rehomed ex-battery hens who will provide plenty of entertainment for anyone brave enough to feed them worms or pasta! They lay fresh eggs for us every morning which our guests are welcome to come and help collect. Our eggs are available to buy from the farm house.
For our morning helpers there is the added excitement of having a free donkey ride (kindly provided by Frosty and Abbott). For some of our older children, or indeed willing parents, our goats Blackberry and Crumble are always keen to be taken for a walk.
Don't forget to pop in and say hello to our little pigs who really enjoy their meal times and lots of fuss.
Looking after you
With fabulous hand washing and toilet facilities the farm is also open during the day time.... if you just can't stay away!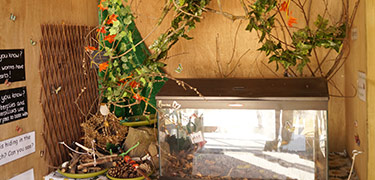 Finally, don't forget to pop in to our brand new Investigation Station where you can discover more about our natural world.
Feeding Times on the Farm
| | | |
| --- | --- | --- |
| Spring | Morning feed @ 9:15am, Evening feed @ 5:15pm | See us down at the feed barn |
| Summer | Morning feed @ 9:15am, Evening feed @ 6:15pm | See us down at the feed barn |
| Autumn | Morning feed @ 9:15am, Evening feed @ 5:15pm | See us down at the feed barn |
| Winter | Morning feed @ 9:15am, Evening feed @ 4:00pm | See us down at the feed barn |